Jessica Pegula
WTT Season: 2nd

Player highlights
Won her first career WTA title at the 2019 Washington, DC- Citi Open.
Started her 2020 season strong as a Finalist at the ASB Classic after beating Caroline Wozniacki to reach the finals against fellow American superstar Serena Williams.
Double's finalist (w/ McNally) at the 2020- 125/Indian Wells.
Made her WTA tour main-draw debut at Roland Garros.
Favorite surface is hardcourt.
Favorite tournament is the US Open.
Avid Buffalo Bills and Sabres fan.
@JLPegula
@jpegula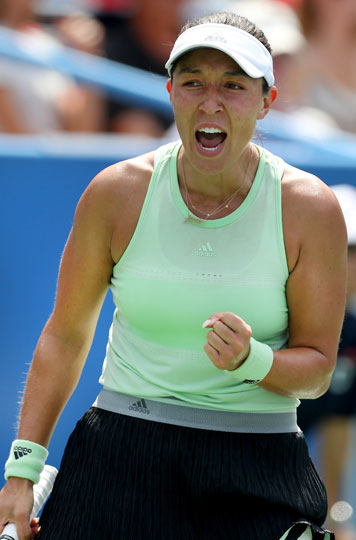 Player Stats
GP
GW
GL
%
Aces
DF
1st %
2nd %
Break Pt Ratio
3 All Pts Ratio
Overall
283
149
134
.527
16
13
.322
.938
12 of 21
14 of 8
Men's Singles
0
0
0
.000
0
0
.000
.000
0 of 0
0 of 0
Men's Doubles
0
0
0
.000
0
0
.000
.000
0 of 0
0 of 0
Women's Singles
69
45
24
.652
8
3
.344
.963
12 of 21
5 of 8
Women's Doubles
110
54
56
.491
6
5
.308
.932
0 of 0
5 of 0
Mixed Doubles
104
50
54
.481
2
5
.305
.912
0 of 0
4 of 0
Charity Doubles
0
0
0
.000
0
0
.000
.000
0 of 0
0 of 0
Mixed Doubles
Opponent
GP
GW
GL
%
Aces
DF
1st %
2nd %
Break Pt Ratio
3 All Pts Ratio
7/12
Lasers
8
3
5
.375
0
0
.455
1.000
0 of 0
0 of 0
7/18
Breakers
9
5
4
.556
1
0
.750
1.000
0 of 0
0 of 0
7/21
Kastles
8
5
3
.625
0
1
.615
.800
0 of 0
1 of 0
7/27
Aviators
7
5
2
.714
0
0
.400
1.000
0 of 0
0 of 0
7/28
Empire
9
4
5
.444
0
0
.500
1.000
0 of 0
0 of 0
7/25
Freedoms
8
3
5
.375
0
0
.500
1.000
0 of 0
0 of 0
7/26
Lasers
8
5
3
.625
1
1
.769
.667
0 of 0
0 of 0
7/30
Kastles
9
5
4
.556
0
1
.500
.857
0 of 0
1 of 0
7/17
Aviators
9
4
5
.444
0
0
.688
1.000
0 of 0
1 of 0
7/16
Empire
6
1
5
.167
0
0
.667
1.000
0 of 0
0 of 0
7/19
Smash
8
3
5
.375
0
0
.700
1.000
0 of 0
0 of 0
8/1
Smash
8
3
5
.375
0
0
.769
1.000
0 of 0
1 of 0
7/23
Rollers
7
2
5
.286
0
0
.571
1.000
0 of 0
0 of 0
7/14
Smash
8
5
3
.625
0
2
.417
.714
0 of 0
1 of 0
Women's Doubles
Opponent
GP
GW
GL
%
Aces
DF
1st %
2nd %
Break Pt Ratio
3 All Pts Ratio
7/12
Lasers
8
3
5
.375
0
1
.667
.750
0 of 0
0 of 0
7/18
Breakers
11
3
8
.273
1
0
.591
1.000
0 of 0
0 of 0
7/21
Kastles
6
5
1
.833
0
0
.750
1.000
0 of 0
0 of 0
7/27
Aviators
6
1
5
.167
0
0
.364
1.000
0 of 0
0 of 0
7/28
Empire
9
5
4
.556
0
1
.429
.875
0 of 0
1 of 0
7/25
Freedoms
8
5
3
.625
2
0
.600
1.000
0 of 0
0 of 0
7/26
Lasers
9
5
4
.556
0
0
.385
1.000
0 of 0
0 of 0
7/30
Kastles
8
5
3
.625
0
0
.545
1.000
0 of 0
0 of 0
7/17
Aviators
8
5
3
.625
0
0
.667
1.000
0 of 0
0 of 0
7/16
Empire
9
5
4
.556
0
1
.625
.833
0 of 0
1 of 0
7/13
Rollers
8
3
5
.375
0
0
.778
1.000
0 of 0
0 of 0
7/19
Smash
8
3
5
.375
1
1
.571
.833
0 of 0
2 of 0
8/1
Smash
8
3
5
.375
1
0
.600
1.000
0 of 0
0 of 0
7/23
Rollers
6
5
1
.833
1
0
.636
1.000
0 of 0
0 of 0
7/14
Smash
6
1
5
.167
1
1
.714
.750
0 of 0
1 of 0
Women's Singles
Opponent
GP
GW
GL
%
Aces
DF
1st %
2nd %
Break Pt Ratio
3 All Pts Ratio
7/12
Lasers
7
5
2
.714
1
1
.609
.889
2 of 2
0 of 0
7/18
Breakers
7
5
2
.714
0
0
.750
1.000
1 of 1
0 of 0
7/21
Kastles
9
4
5
.444
0
0
.444
1.000
0 of 2
1 of 2
7/27
Aviators
5
5
0
1.000
0
0
.667
1.000
2 of 4
1 of 1
7/28
Empire
7
5
2
.714
1
1
.583
.900
1 of 2
2 of 3
7/25
Freedoms
7
5
2
.714
1
1
.556
.875
2 of 4
0 of 0
7/26
Lasers
7
5
2
.714
0
0
.522
1.000
2 of 2
0 of 0
7/30
Kastles
8
5
3
.625
1
0
.522
1.000
1 of 2
1 of 2
7/17
Aviators
3
1
2
.333
0
0
.667
1.000
0 of 0
0 of 0
8/1
Smash
9
5
4
.556
0
0
.630
1.000
1 of 2
1 of 2
7/23
Rollers
9
5
4
.556
4
0
.826
1.000
1 of 2
0 of 0
Let's Socialize